What's new
---
July 2011
Three new kinetic sculptures added
---
October 2010
Television Interview: Open Studio's 2010: Moto Ohtake. Community Television Santa Cruz. Produced by Victor Herrmann.
---
June 2010
Fulton Playground Project in San Francisco
Website: http://www.sfartscommission.org
YouTube: http://www.youtube.com/ArtsCommission
Fulton Playground Renovation Plans Nearly Complete. Richmond District Blog.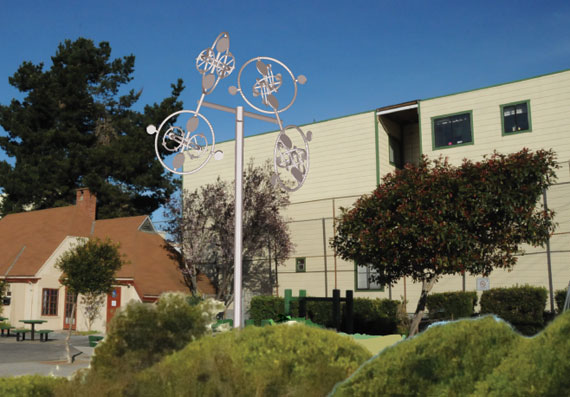 ---
February 2010
Four new kinetic sculptures added
---
September 2008
Eight new kinetic sculptures added
---
May 2008 - Installation of Airborne 2008 - Atlanta Botanical Garden
In May, Airborne 2008 was installed for the kinetic sculpture exhibition entitled "Sculpture in Motion: Art Choreographed by Nature" at Atlanta Botanical Garden in Atlanta Georgia. Sixteen kinetic artists are participating in this exhibition.
For more information:
www.atlantabotanicalgarden.org
---
April 2008 - Installation of Orbiter 2006 - Q House, Dublin, Ireland
In Sandyford, located in the out skirt of Dublin, 5 miles southeast. The piece was installed in April and the building was recently completed.
Please visit Q House and DMOD (architect office) web sites.
www.qhouse.ie
www.dmod.ie
---
September 2006 - In The News
Moto Ohtake's kinetic sculptures mesmerize with movement
Santa Cruz Sentinel - September 24, 2006
By Terri Morgan
Sentinel correspondent
---
August 2006 - Two new kinetic sculptures added